En primer lugar: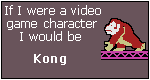 I am Kong. Strong and passionate, I tend to be misunderstood, sometimes even feared. I don't want to fight, I don't want to cause trouble, all I ask is a little love, and a little peace. If I don't get what I want, I get angry, and throw barrels and flaming oil at whatever's stopping me.
Si no fuera Kong sería...¿un asteoride? (este me mosquea):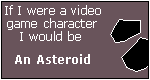 I am an Asteroid. I am a drifter. I go where life leads, which makes me usually a very calm and content sort of person. That or thoroughly apathetic. Usually I keep on doing whatever I'm doing, and it takes something special to make me change my mind.